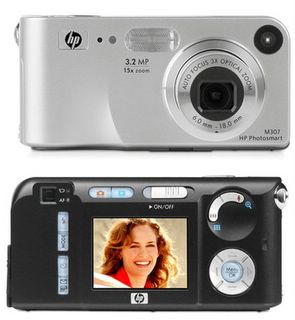 That is not me in that picture...

Despite the fact that I said, I was not going to buy a new digital camera; I finally got a new one. Then again, to my defense, I only got it because it came with a new printer I got for my new office. Computer store Micro Center had on sale for $180.00. Usually printer alone cost around $120.00 - $130.00. So, why not spend extra $50.00?
It is not the best digital camera but it is much better than what I have and it is cheapest I could find. I have check the eBay and camera alone go for at least $100.00 or more.
Old camera has only 2X zoom, 1.0MP and it is heavy, new camera, HP M307 is only half a size, lighter, 3X zoom, and 3.2MP.
So, all the people who complained about bad quality pictures don't worry now, I will post better pictures now on. Unless, it was my photo taking skill that was bad…